Commemorative Models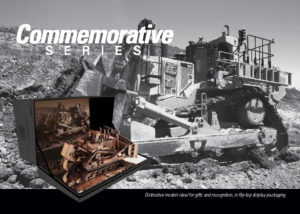 For gifts, special recognition, or just for those who want to own some of the coolest looking models around, Commemorative replicas from Diecast Masters are the ideal choice.
Boasting a unique finish the Commemorative models from Diecast Masters is a scale model like no other. Presented in a top-quality, flip-top display package with the model set into a removable mirrored base, this very special 1:50 scale Cat® model replica is sure to be a centre piece of any collection.
Recessed into the mirrored base is a plate engraved machine detail on its upper surface. This plate is also removable and reversible, allowing customers to place their own custom message on the other side. They might,for example, say "Thanks, Bob Smith, for Your Service" andpresent the model as a retirement gift.
Showing all 6 results