Peterbilt Trucks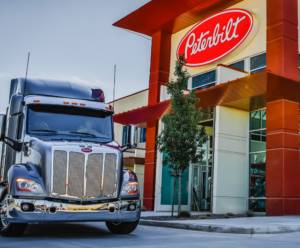 Peterbilt Motors Company is an American truck manufacturer. Producing its first truck in 1939, the company specializes in commercial heavy-duty and medium-duty vehicles. Since 1958, Peterbilt has been owned by PACCAR, operating alongside sister division Kenworth Truck Company. Introduced in 1953, a large red-oval brand emblem distinguishes its vehicles.
Founded in Oakland, California, Peterbilt is currently headquartered in Denton, Texas (since 1986); the company manufactures vehicles in Denton, Texas and in Sainte-Thérèse, Quebec (predominantly the class 7 348 models).
Diecast Masters offers Peterbilt Truck scale models in a range of colours with various load options in 1:50 scale.
Showing all 13 results