Kenworth Trucks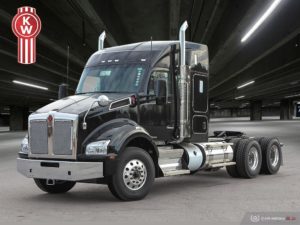 Kenworth Trucks, Inc. is an American-based truck manufacturer. Founded in 1923 as the successor company to Gerlinger Motors, Kenworth specializes in production of heavy-duty (Class 8) and medium-duty (Class 5-7) commercial vehicles. Headquartered in Seattle suburb Kirkland, Washington, Kenworth has been a wholly owned subsidiary of PACCAR since 1945, operating alongside sister company (and marketplace rival) Peterbilt Motors.
Kenworth marked several firsts in truck production; alongside the first truck produced with a standard diesel-fuel engine, the company introduced a raised-roof sleeper cab, and the first heavy-duty truck with an aerodynamically-optimized body design. The Kenworth W900 has been produced continuously since 1961, serving as one of the longest production runs of any vehicles in automotive history.
Diecast Masters offers a range of Kenworth trucks in 1:50 scale in sleeper and day cab with a range of trailer and axel combinations. Also dump and mixers.
Showing all 11 results